---
With Fancon 2019 around the corner, I thought it would be fun to look at some of the work from the content creators that will be exhibiting and promoting their work at the event.
---
---
I hope that this will prepare not only me, but others for what to expect and what to look out for. This is by no means a comprehensive list of everybody that will be attending and promoting their work at Fancon, but just a few of the content creators that were highlighted by Fancon and some that I am interested in.
---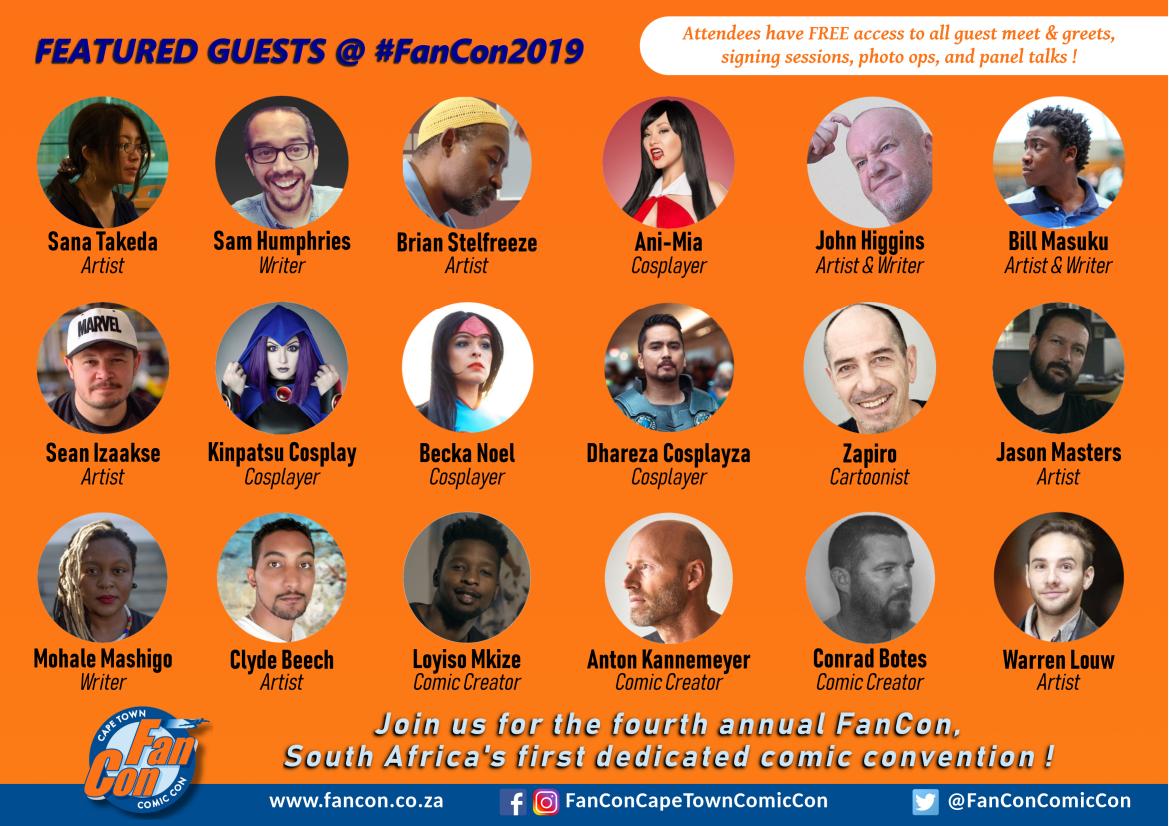 ---
That being said, this is still quite a lot of people, so I have taken the liberty of looking into some of the lesser-known (at least to me) artists and comic book creators and reviewed some of their work. Other Fancon guests I have just mentioned.
---
Priya's Shakti
---
---
PRIYA'S SHAKTI: INDIA'S FIRST FEMALE SUPERHERO & AUGMENTED REALITY COMICS
---
A presentation by Ram Devineni, award-winning film director and creator of the Priya's Shakti
Meet Ram Devineni at Priya's Shakti Artist Alley booth A77! (credits: Fancon Twitter)
---
ABOUT Priya's Shakti
The storyline focuses on Priya, a human woman and ardent devotee of the Goddess Parvati who has experienced a brutal rape and the social stigma and isolation resulting from it. The Goddess Parvati is horrified to learn about the sexual violence that women on Earth face on a daily basis and is determined to change this disturbing reality. Inspired by the Goddess, Priya breaks her silence. She sings a message of women's empowerment that enraptures thousands and moves them to take action against GBV around the world. This project highlights the threat of sexual harassment and violence that women face on a daily basis unless deeply rooted patriarchal norms are challenged.
---
My Thoughts
---
I am absolutely 100% on board with the message of this story. I love the art, I love the message, I just wish there was a little bit more plot. It seemed very rushed, more like a summary than anything else. This could be even better with both plot and character development.
I would have liked to see more of Priya's journey, including more of how she grew up, what he life was like and how things changed after the violence she experienced. This was all included but in flashes that are over too soon.
I know how difficult this topic is, but I think that seeing the struggle and the pain she had to endure and how this could easily happen to anybody, would have been more impactful (especially to non-believers and those who feel the need to victim blame).
That being said, I wish this comic and the writer/artist all the best and success.
Chapter 1 and Chapter two can be accessed for free here.
(Chapter 1 is available in English, Portuguese, Spanish, Italian and Hindi)
---
Bill Masuku
---
---
Zimbabwean comic book artist, writer & creative, BILL MASUKU !
A key figure in the Zimbabwean comics scene & the creator of the Razor-Man and Captain South Africa comic ! awesome having representation from the rest of the African continent ! #FanCon2019 (credits: Fancon Twitter)
I was unable to find a lot of information about Masuku, but I have had a look at his art (which is gorgeous)!) and read up on the comic books he has created.
---
---
I would definitely like to get my hands on at least one of his comics!
---
---
More on Bill: Website, Facebook, Twitter
Have a look at his art: here
---
Jason Masters
---
---
Jason Masters is back for FanCon2019 ! DC, Dynamite and Marvel artist and currently working on the Caster web comic. For the first time, he will have an Artist Alley booth at the show 🙂
(credits: Fancon Twitter)
---
Sean Izaakse
---
---
Stray artist & co-creator, and noted Marvel artist, Sean Izaakse is also back!
He is known for Thunderbolts, Avengers, Deadpool, Champions, and the upcoming Avengers No Road Home story event !
(credits: Fancon Twitter)
---
SANA TAKEDA
---
---
Eisner award winning artist on the hit Image series Monstress! Other noted work includes: X-23, Ms Marvel, X-Men and Civil War II, also art & covers for Image, Aspen, Boom Studios and DC.
(credits: Fancon Twitter)
---
BRIAN STELFREEZE!
---
---
Comics legend, Stelfreeze is an artist with a 30 year career in the industry, known for his run on Batman Shadow of the Bat covers and artist on the 2016 relaunch of Black Panther. Plus extensive body of work for most publishers
(credits: Fancon Twitter)
---
Anton Kannemeyer (Joe Dog) and Conrad Botes (Konradskie)
---
---
The creative duo & founders of Bitterkomix will both be attending. They will also have a booth in artist alley and launch a brand new publication!
(credits: Fancon Twitter)
---
The Cottonstar Crew
---
Danelle Malan and Ben Geldenhuys will be attending Fancon again this year. They are the creators of a webcomic called Cottonstar.
---
ABOUT Cottonstar
---
Cottonstar is a fantsay adventure webcomic set in a post-global-warming, dystopian future South Africa. Set in an alternate future Cape Town in which most of the present day land masses of the world are covered with water.[ The story follows the protagonist, Renier du Preez, as he experiences life aboard the ship named Cottonstar, on which he holds the position of ship's boy.
I gave the first few chapters a read on their website and I actually enjoyed it a lot more than I thought I would. I love that it is set in South Africa, with the inclusion of local places as well as Afrikaans vernacular. It makes this comic feel close to home. The characters all have their own personalities and are equally entertaining and enjoyable.
If you want to enjoy what our local artists have to offer, give this a read: here!
They will have prints, comics, stickers, original art and more available at Fancon, so be sure to give them a visit!
---
Team Kwezi
---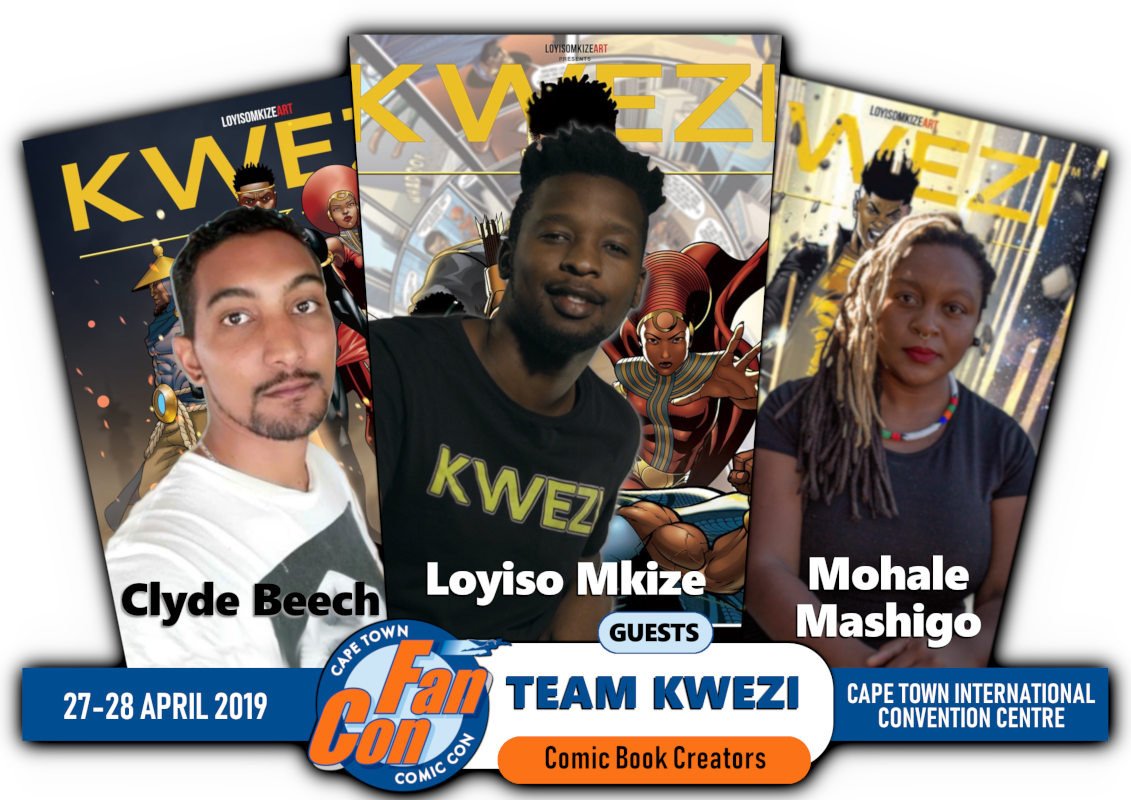 ---
Team Kwezi is back this year!
The full creative team behind SA's sensational superhero comic series, Kwezi: Creator & artist Loyiso Mkize; artist & colourist, Clyde Beech; and writer Mohale Mashigo will be attending Fancon this year.
(credits: Fancon Twitter)
I am actually already a fan of the Kwezi comics. I started reading it last year and I cannot wait to keep reading more. If you have never read the Kwezi comics, give it a shot! It starts off a bit slow, but I promise it is worth it.
Let me know if you want me to write a full review on the Kwezi Comics!
They are available in local stores Bargain Books, Exclusive Books and Readers Den as well as online at Takealot.com and Loot.co.za.
---
Tafadzwa Eddy Shumba
---
Tafadzwa is an aspiring comic book artist, who writes horror, mystery, thriller, tradegy and crime. He will be in the Artists Alley promoting his web comic, ParaDox and will also be selling the first volume for only R70!
---
About ParaDox
Gruesome murders start occurring in Altankir, leaving the City Police chasing their tails, unable to solve the murders. An independent agency, the Special Investigation Service, is also looking into the murders to no avail. Despite the bad blood between them, the police and the SIS have to work together and catch the killer before more lives drop. The race against time to solve the murders turns into a deadly cat and mouse chase between the mysterious serial killer and the SIS's trump card.
---
My Thoughts
---
The first volume consists of the first 3 chapters. I have read the first volume and gave all the other chapters available so far a read. It is definitely not for the faint of heart! It is gruesome and bloody and should definitely come with a trigger warning.
The art is not bad at all and there are some very interesting characters, mainly Skye, Ruko and the unnamed criminal/psychopath they are investigating. This story definitely has potential.
All chapters are available for free in webtone: here
Tafadzwa is not only selling this this comic, but also some other art pieces, so be sure to stop by his booth for a look!
Visit Tafadzwa on twitter
---
Warren Louw
---
---

Warren is one of South Africa's top artists, illustrators & game designers, and an awesome variant cover artist.
(credits: Fancon Twitter)
I am not going to lie, Warren has some amazing skill when it comes to his art. If you have never seen any of his work, have a look on his website. Trust me, his art is amazing.
Find Warren on: his official website, instagram, deviant art, twitter
---
Sam Humphries
---
---
International guest Sam Humphries, comic book writer, is back again this year!
Sam is the current writer of Harley Quinn, and co-creator & writer of Blackbird (Image) & The Goliath Girls Comixology series. He is also the co-host of DC DAILY on the DC Universe streaming platform.
(credits: Fancon Twitter)
Find Sam on: his website, twitter and instagram.
---
ZAPIRO
---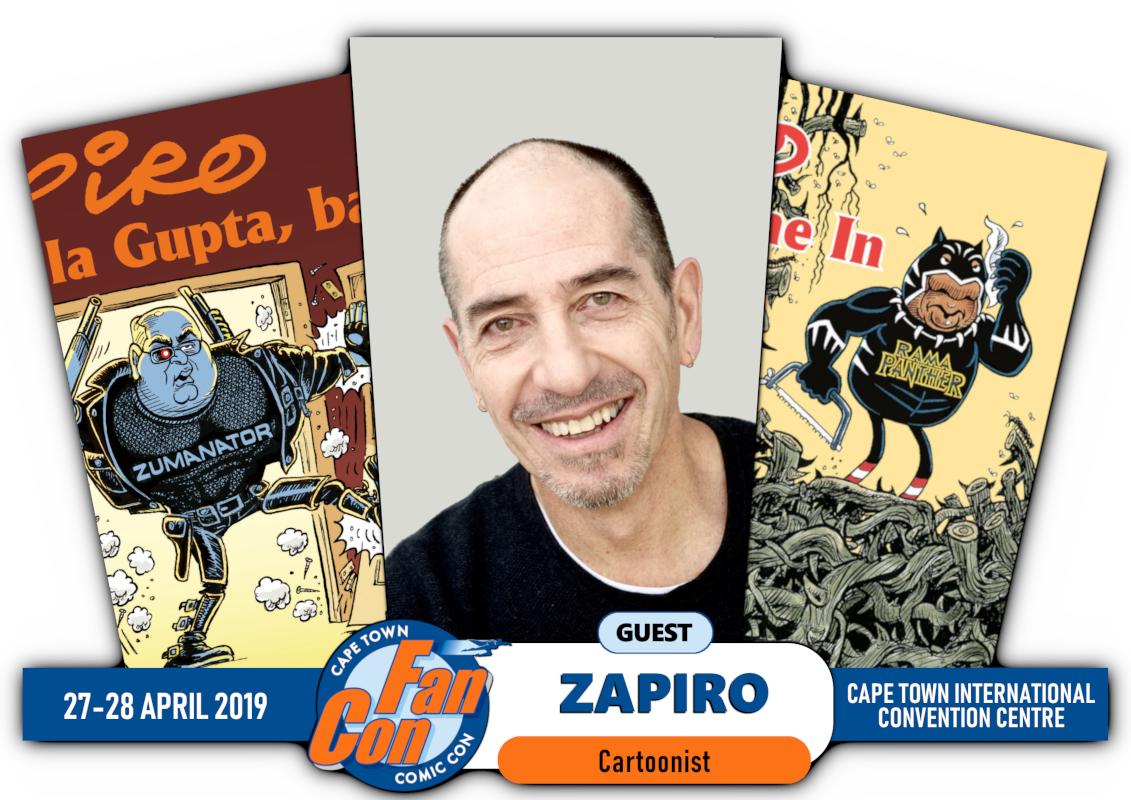 ---
Last but not least, South Africa's top multi-award winning cartoonist returns to FanCon!
Note: Sunday appearance only! He will only be available for panels, signings and meet & greets on Sunday. The Zapiro booth will be open over both days.
(credits: Fancon Twitter)
---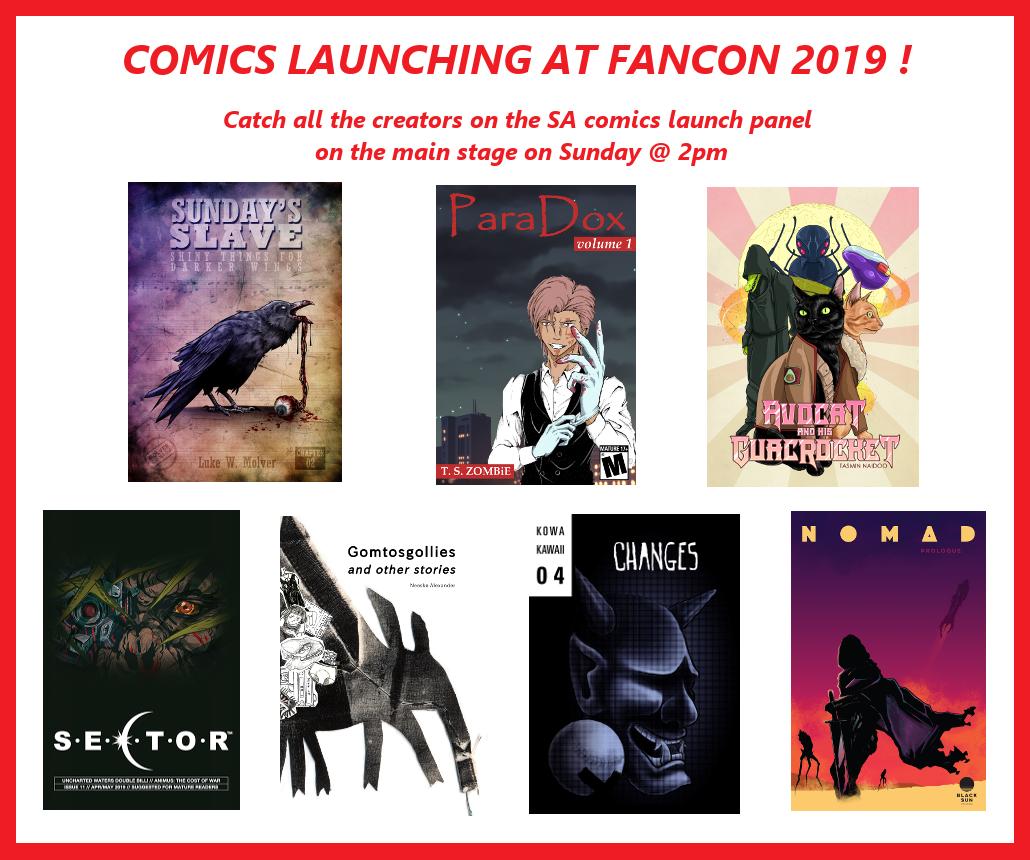 ---
I am always excited to see what our local content creators have got up their sleeves. I have already read ParaDox, but I am eager to try out the rest of these comics and support our own.
---
Overall Thoughts
---
This is only some of what the Fancon programme has to offer this year. I have noticed that the programme for this year does not seem to be as full as those of previous years, but I am still excited to go and enjoy the day with my friends.
One of the reasons I love going to Fancon is because of the overabundance in merchandise. We have such a very limited amount of stores that sell bookish, comic, manga (and many more) merch. Having all the different stores and stalls selling merch in one place does not happen often. It is the perfect opportunity to make bad decisions and spend all my money.
A few things that I am definitely going to purchase include:
A House Stark sigil choker (I already own one, but i seem to have misplaced it, and it makes me sad everyday to think about it)
an Angelic Rune necklace from the Shadowhunter Chronicles books
Probably a Fancon Hoodie or T-shirt
A few comic books/manga
I might buy more, I might buy less. It all depends on what I can find and how busy I am.
FANCON IS THIS WEEKEND!!!
Will you be attending Fancon this year?
Have you gone before?
What other comic con have you been to?
Let me know in the comments! I would honestly love to hear from you.
Don't be shy 🙂
-Nisha
---
Follow me on: Twitter, Instagram and Goodreads